India is an expansion, which requires a base game. It comes with
Switzerland
.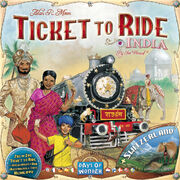 Components
Edit
An Indian map and corresponding tickets, and a rulebook.
Differences
Edit
India can only be played with 2 to 4 players. Also, double routes are available only in 3 or 4 player games.
If you complete a ticket twice without sharing a route, you get a certain Mandala bonus (5 points for the first, 5 more for the second, 10 for the third, fourth, and fifth (no further bonuses).)
Embark on a tour of Ian Vincent's India and discover one of the most densely populated and colorful countries of the world. The year is 1911, and the world is changing fast in the British Raj. Will you complete your Grand Tour in time, or lose to more cunning – or simply better connected – opponents?
This map was made by Ian Vincent, who tied for first in the Ticket to Ride Map Creation contest.
Ad blocker interference detected!
Wikia is a free-to-use site that makes money from advertising. We have a modified experience for viewers using ad blockers

Wikia is not accessible if you've made further modifications. Remove the custom ad blocker rule(s) and the page will load as expected.