Maerklin is the third installment in the Ticket to Ride series.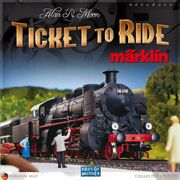 Components
Edit
The same as in the first game, but with:
Purple and white trains replacing blue and green.
Plastic stackable score markers.
Germany themed board and tickets.
A whole lot of passenger tokens.
3 passengers for every player.
Setting up
Edit
The same as in the first game, but you have to:
Place passenger tokens in descending order of the color of the city.
Divide tickets into long and short tickets.
Players may choose what combinations of long and short tickets to take.
The same as in the first game, with some added features:
This map is set in 2006, making it the most recent Ticket to Ride map.
This map was made in a temporary partnership by Days of Wonder and Marklin.
This is one of the three base games with purple and white trains.
Ad blocker interference detected!
Wikia is a free-to-use site that makes money from advertising. We have a modified experience for viewers using ad blockers

Wikia is not accessible if you've made further modifications. Remove the custom ad blocker rule(s) and the page will load as expected.