Nederland is an expansion, which requires a base game.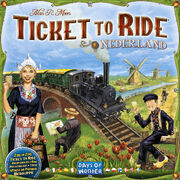 Components
Edit
Differences
Edit
Dummy Player in 2 player games (At the bottom of tickets are 2 cities, each round after the 6th, pull one up and place cars that you aren't using on that route, if there is one. Give toll tokens to any players who deserve them)
Amsterdam's numerous canals make it the Venice of the North, but all of Nederland is filled with waterways. A rail journey in this low-lying country – where 20% of the land is below sea level – crosses countless bridges. Spend too much time admiring the beauty and you'll spend your money in bridge tolls!
This map is set between 1918 and 1940.